Shivvers CompuDry Command Center
---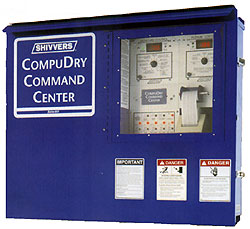 The CompuDry Command Center constantly monitors conditions, such as grain moisture, grain temperature, plenum temperature, and controls all components of the system. You make some initial settings to the Command Center, concentrate on harvesting your crop, and keep grain in the bin...while the Command Center does the rest. It is designed with the operator in mind, itís easy to use and gives you fingertip control of your entire in-bin continuous flow system.
Take a look at what we have to offer below. Compare our advantages to our competition. See if anyone else can offer you the accuracy, precision, and control that you require in these times where every cent counts.
Command Center Advantages:
No Babysitting - Saves you time!
Grain moisture, Grain Temperature and Plenum temperature are all automatically controlled from one location
NO OVER-DRYING - the Command Center automatically turns down burners as necessary
Fingertip control of your entire in-Bin Continuous Flow Grain Drying System
Your Performance System can run 24 hours a day... 7 days a week
What is "Fingertip Control" with a Shivvers CompuDry Command Center?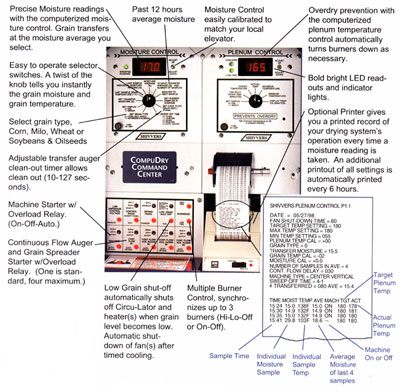 (click image to enlarge)