Shivvers Blue Flame II MAXX Dryer
---
Blue Flame II MAXX
Big drying jobs demand big, powerful heaters. The Blue Flame II MAXX was built to handle the job of drying large capacities in large bins, and is capable of producing Seven Million BTU's Per Hour.
This burner was designed specifically to be used with the Shivvers 30 HP double inlet centrifugal fan. The Blue Flame II MAXX is available in versions to burn either propane or natural gas.
Air MAXX 30 Centrifugal Fans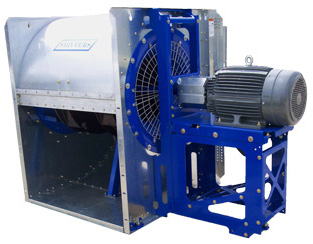 The Air MAXX 30 Centrifugal Fan is designed to move air through massive amounts of wet grain in large diameter bins. Shivvers has developed a new line of drying fans that will do exactly that, dry large volumes of grain, quickly.
These fans operate at a reduced noise level and are designed for use on drying bins where higher capacities are required. Fans are available in 30 HP, 230 or 460 volt 3 phase.
Static
Pressure
0
1
2
3
4
5
6
7
8
9
CFM @ 70F
30,000
29,300
28,200
27,100
26,000
24,800
23,600
22,100
20,300
17,500