Generators For Country Clipper Lawn Mowers
Made in the U.S.A. by DeMott Enterprises
---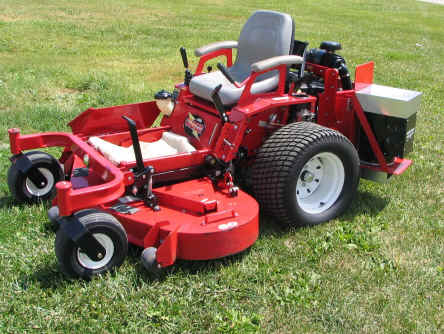 We are pleased to announce that we now offer a generator accessory for Country Clipper zero turn lawn mowers!
DeMott Enterprises now manufactures a generator accessory designed to attach to the rear of Country Clipper lawn mowers.
Available in 7, 8.5, or 11 kilowatts (continuous running watts), enough to power your your whole house*.
Advantages over a conventional generator:
Always ready - Since the engine is used to mow constantly, it's always ready! No more charging the battery, finding the generator out of gas, or trouble starting from infrequent use.
Portable - You have to drag or wheel conventional generators to wherever you need power. With our generator, you simply attach the generator to the mower, and drive it to where you need it.
Lower cost - Most generators cost a lot of money for this much power. Most of that cost is for the gas engine to power the generator. You've already got an engine powerful enough to run it, so why buy another? Just buy the generator, and attach it to your mower!
Only runs when you want it to run - The generator turns on and off with the deck clutch switch.
Safety interlock switch - ensures that the generator can only be ran with the parking brake on. If the parking brake is released at any time, the engine shuts off when the switch is set to generate.
Features:
MADE IN THE U.S.A by DeMott Enterprises
Power your whole house!*
Easily attach and remove the generator from your mower.
Our bracket and mounting system lets you mount and remove the generator in only one minute or less by moving only one pin and the belt. Since Country Clipper lawn mowers are already designed to make removing the belt very easy, attaching the generator is a snap!
Simplicity of design
Our generator uses the existing mower deck pulley to power the generator. There aren't any added pulleys or other extensive modifications to the mowers drive train. There's virtually nothing to go wrong.
Self-tensioning Belt
Like all other belts on Country Clipper mowers, the generator belt is self-tensioning. You never have to adjust the belt tension.
Rain Cap
The generator has a 20 gauge galvanized hinged rain cap that covers the generator for safe operation even in inclement weather.
Belt Guard
The heavy duty 14 gauge galvanized belt guard covers the moving parts for safety, and is heavy enough to the stand the generator on when not in use.
Compact
Only takes 12" x 14" x 24" tall space to store.
Specifications:
Output: 220 volts, 50 amps
Outlets: One 50 amp straight-blade, two 120 volt duplex receptacles
Dual bearing
Three-phase available on special order
| | | | |
| --- | --- | --- | --- |
| | 7 KW | 8.5 KW | 11 KW |
| Max KW | 7.5 | 9 | 12 |
| Prime KW | 7 | 8.5 | 11 |
| PRIME AMPS @ 120 V | 58 | 70 | 92 |
| PRIME AMPS @ 240 V | 29 | 35 | 46 |
| Price: | $2,350.00 | $2,550.00 | $2,750.00 |
---
*For use to power a house, installation of a transfer switch by a certified electrician is recommended. Improperly connecting a generator of any kind to a home circuit panel can result in damage to the panel, wiring, or any connected appliances if mains power comes back on while the generator is running.
Due to continued product improvement, all specifications subject to change without notice.
Patent Pending