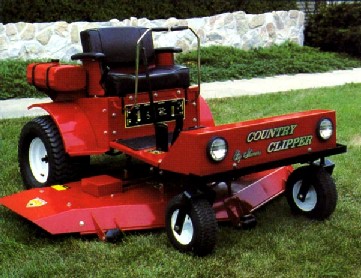 1986 Prototype
This is the original Country Clipper mower, and was available in just two models, a residential, and a commercial model. Engine options were 11 to 18 HP Briggs and Stratton, with cutting widths of 42" or 48". The design was sold to Snapper, and Shivvers retained manufacturing rights. Shivvers manufactured mowers for Snapper from 1988 to 1995.
We had a demo unit of one of these machines at DeMott Enterprises for a month or so back in 1986.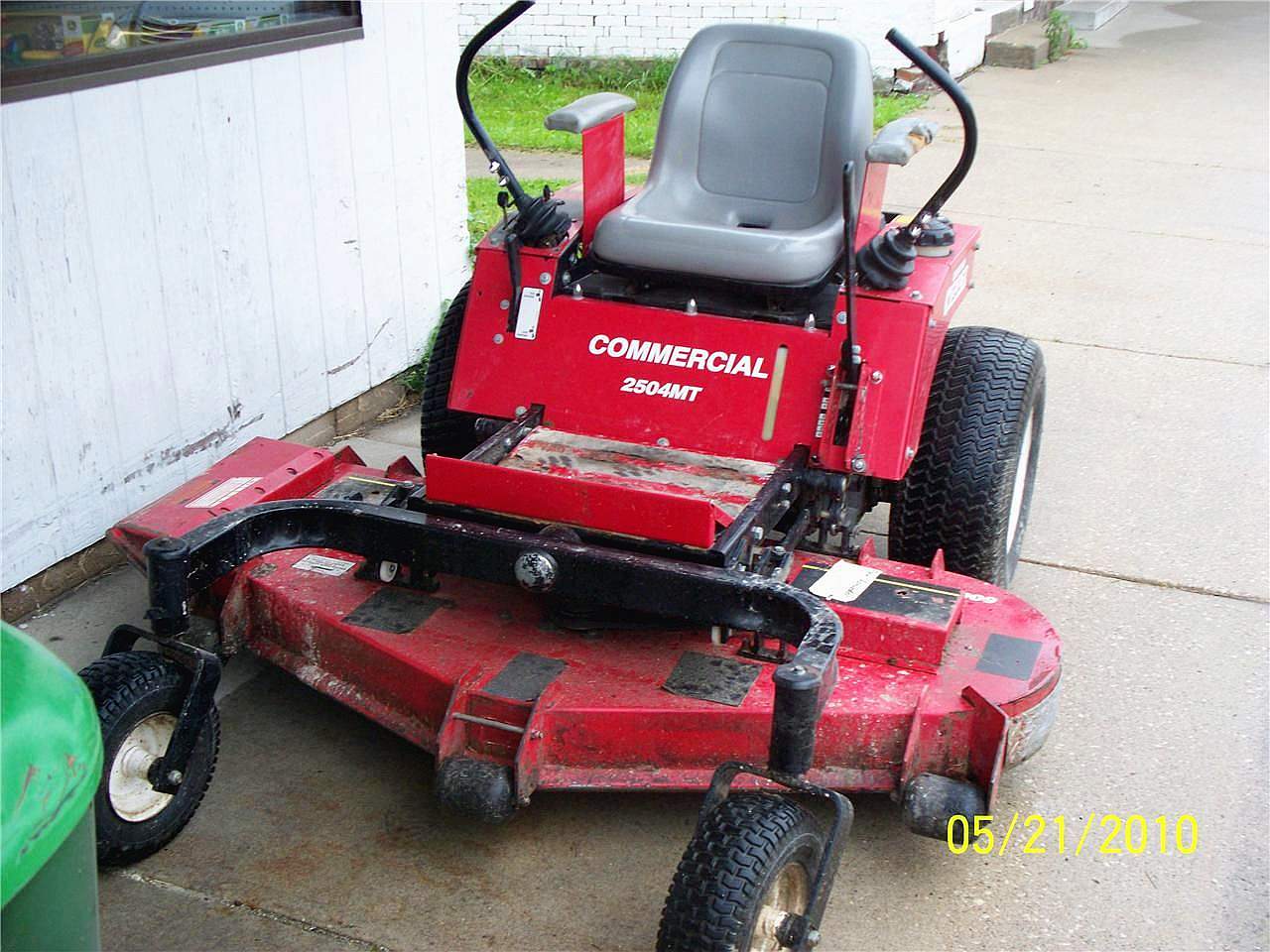 2504MT circa 1999 - 2004
The 2504 MT was one of the first Country Clipper branded models. Also available in this period were the 2304KA, and the 2304M. These were available from 23 to 25 HP, and all mowed at 10 MPH.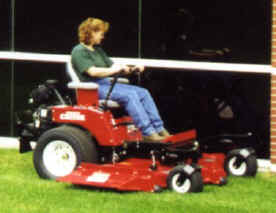 Zeton
The Zeton was introduced shortly after the 23 and 25 series as the top-end commercial mower. Later on, the Zeton-Boss with a 72" deck was introduced.
A DIVISION OF SHIVVERS MANUFACTURING
The Country Clipper Division of Shivvers Manufacturing is a pioneer in the zero turn mower industry. Country Clipper first began production of high quality, innovative zero turn mowers in 1986. Over the past 23 years, Shivvers Manufacturing has produced tens of thousands of quality zero turn mowers for both the commercial mower industry, and the residential and estate homeowner.
In 1988, Shivvers began production of mid-mount zero turn mowers for Snapper™, and in 1995 expanded to include supplying additional major OEM's. In January of 1996, Shivvers created the Country Clipper Division and began production of the Country Clipper brand of zero turn mowers. In March of 1996, Country Clipper out-front mowers came rolling off the assembly line of the Country Clipper Division of Shivvers Manufacturing in Corydon, Iowa. Production of the mid-mount Country Clipper and a full line of accessories soon followed. This was just the beginning of a new signature mower line and a new division of an older, established manufacturing company, Shivvers Manufacturing.
Manufacturing is not new to Shivvers. Shivvers began production of agricultural grain drying systems in 1969, and since that time facilities have grown to 120,000 sq. ft. of manufacturing, office and warehouse space located on 20 acres of land. With our high production machinery, including a Mazak X48 Laser cutter, CNC sheet metal machining, robotic welders, computer controlled AMADA punch presses and OKUMA high-speed turret lathes, multi-axis machining center and automatic powder paint coating equipment with infrared furnaces, Shivvers Manufacturing is a true state-of-the-art manufacturing facility.
Today, marketing of Country Clipper zero turn mowers is exclusively through two-step distribution, and distributorships are currently in place over a wide area of the United States. Our distributors, in turn, offer a high level of service and support to a network of over 600 dealers across the country. Consequently, Country Clipper continues to experience strong growth in the zero-turn mower market, and more than likely there is a qualified dealer near you to meet the ever-increasing demands for our products and services. More and more, commercial users and homeowners alike are discovering that Country Clipper mowers truly are some of the world's most desirable zero-turn mowers.
Throughout its long history, Country Clipper has consistently been first with innovations that are still used by us and other zero-turn mower manufacturers today. Some of Country Clipper "firsts" include:
Our patented stand-up deck.
Joystick steering control.
Single 11-gallon fuel tank.
Shaft-driven grass collection blower motor.
Articulating front axle and deck.
Shivvers Manufacturing, Shivvers Inc., and Shivvers Holding Company are privately owned companies with annual retail sales of over 40 million dollars in agricultural and outdoor power equipment. As we continue to grow and expand, Country Clipper is committed to offering high quality, innovative products that are unsurpassed in the industry. Our unprecedented growth and success are a testimony to that commitment.
Country Clipper – First With Innovations That Last.
(Historical information on older models is provided by DeMott Enterprises, and is researched to be accurate to the best of our ability, but may contain omissions, or may not be entirely inclusive with date ranges. Please note that we do not have any of these older models in stock, unless noted on our Current Inventory page.)