---

Features:
20 hp Kohler Courage Engine, or 21.5 hp Kawasaki FR651V
41", 48", or 52" cutting width
Joystick or Twinstick Steering
Stand-up Deck
7.5 mph forward speed
Twin Hydro Gear hydrostatic transaxles
5 gallon fuel tank
Up to 3.9 acres per hour
High Back seat
Starting at: $3,745*
Detailed Wrangler Specifications
Feature
Model
1841KAJ-140
2348KOJ-140
21548KAJ-140
21552KAJ-140
2352KOJ-140
Engine
Kawasaki FR600
Kohler KT730
Kawasaki FR651V
Kawasaki FR651V
Kohler KT730
Horsepower
18 hp
23 hp
21.5 hp
21.5 hp
23 hp
Cylinders
Twin
Twin
Tires, Front
10 x 3.5-4
13 x 5-6
Tires, Rear
18 x 8.5-8
18 x 9.5-8
Width, Tractor
(outside rear tires)
42.75"
Weight
665 lbs
685
730
745
Deck
Width (with chute)
54"
60.5"
60.5"
64.5"
64.5"
Cutting Width
41"
48"
48"
52"
52"
Blade Length
21" (2 Blades)
17"
17"
18 3/8"
18 3/8"
Retail Price:
$4,075
$4,595
$4,795
$5,195
$5,195
Our Price
$3,745*
$4,195
$4,495
$4,795
$4,795
* Prices subject to change. Listed price includes the 3% cash discount and does not include 6% Michigan sales tax. Financing is available. Please call for current pricing, assorted special offers may apply. Extended Service Package available. The highlighted model is the one DeMott Enterprises normally keeps in stock.
See our Current Inventory.
Additional Specs

Blade Tip Speed
19,000 fpm
Cutting Height
1" - 4" (1/2" increments)
Oil Capacity
2 qt w/ filter
Ignition
Electric
Hydrostatic Transmission
Twin Hydro-Gear EZT Hydrostatic Transaxles
Steering Control
Joystick or Twinstick
Fuel Capacity
5 gallons
Ground Speed
Forward
7.5 mph
Reverse
5 mph
Length
78.5"
Height (top of seat back)
43"
Hour Meter
Standard on Kawasaki models
Cup Holder
Standard
Arm Rests
Standard
Head Light Kit
Mulch Kit
Available
Pivoting Front End
No
Due to continuous product improvement, specifications are subject to change without notice.
Visit the Accessories page for more tools and attachments to customize and add value to your Country Clipper mower.
The All New Wrangler!
For entry level residential, the competition can't match Wrangler's capacity, power, and agility on smaller acreages and lawns.


Revolutionary Deck Design
Our patented stand-up deck design allows the deck to be rotated up for quick and easy maintenance and cleaning. It's constructed of heavy, all-welded steel, and not stamped like the competition, with extra reinforcement in strategic areas. A heavy steel bullnose protects the leading edge of the deck. No tools needed to flip the deck! The deck and frame are warranted for five years* against functional bending and cracking regardless of the hours.


Easy-to-use Joystick steering
The Wrangler features Country Clipper's easy-to-use, revolutionary joystick steering control. It's a smooth, heavy-duty mechanical linkage control that makes mowing a breeze. Dual stick steering is also available as an option.

Heavy-duty Hydrostatic Transmissions
Each independent, unitized hydrostatic transmission contains a matched hydraulic pump and motor set, and is completely sealed to prevent nuisance oil leaks. A built-in hydraulic charge pump coupled with special valving combine to give your mower a smooth operating, heavy-duty dual transmission system.


Cast Iron Tough
The Wrangler utilizes the same heavy-duty cast iron spindle housing and a 1 1/4" spindle shaft used in our commercial machines, as well as cast iron pulleys, for years of worry-free operation. We machine the spindles ourselves and give them extra shielding to keep out dirt and debris. To say they're over-built would be an understatement.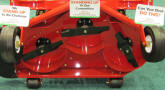 Fully Baffled Deck
Country Clipper decks feature a full complement of front and rear deck baffles for a fast, superb quality cut in the finest Kentucky Bluegrass or the toughest southern Bahia grass.


Oversized Deck Rollers
Our 5"-wide anti-scalp rollers are made of a high-impact material that won't break off or crack when they hit an obstacle.


Proven Performance
You'll experience years of dependability and reliable service with the proven Kohler engine used in the Wrangler.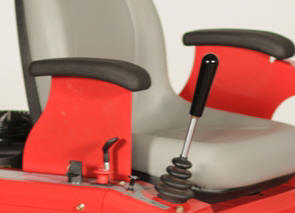 Operator Presence Controls
A safety interlock allows the operator to leave the mower while the engine's running and the deck is disengaged to move obstacles or make other adjustments.


Handy Cup holder
Why not bring along something refreshing to drink? The Wrangler comes standard with a cup holder.


High-back seat
The seat is designed for all-day comfort. It's high-density foam and tough, durable construction are meant to withstand years of operation.
---
Country Clipper warranties are the best in the business.
You can be confident that when you buy a Wrangler you are buying the best. We back it with a limited 2-yr residential warranty that includes parts and labor. And then we stand behind every Wrangler we build with outstanding service.
The 3rd year limited warranty covers parts.

The 4th and 5th year covers the frame & deck weldment. and parts.
Simply return your warranty registration within 10 days to get this extra warranty. Contact us for complete warranty details.