---
Features:
27 hp Kohler Courage Pro V-Twin or 22 hp Kawasaki V-Twin
52" or 60" cut width
Joystick or Dual Lever steering
Left hand joystick on select models
Stand-up Deck
Pivoting Front Axle & Deck
8 mph forward speed
Twin Hydro-Gear ZT-3100 hydrostatic transaxles
4 gallon fuel tank
Up to 3.8 - 4.8 acres per hour
High back, enhanced comfort seat
Starting at: $5,995*
Visit the Accessories page for more tools and attachments to customize and add value to your Country Clipper mower.
* Price is cash price for the model we keep in stock. See the detailed specifications for more details.
The Serious One in the Bunch.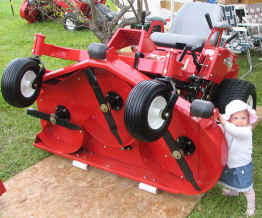 The JAZEE PRO combines features of those found on our commercial line with the added comforts of our residential line. Built with a larger engine, a more powerful transmission, and a wider cutting width than the JAZEE, you are able to cut up to 4.8 acres per hour. With all of this, we have created a pro-inspired, entry level commercial machine that's easy to use and comfortable to operate for homeowners or lawn care professionals.
The JAZee PRO from Country Clipper is more than rugged enough for commercial use, yet it's so easy to use, it's fun for everyone. With a mowing speed of 8 mph, your choice of 48", 52" or 60" cutting widths, and a true 360° turning radius, the JAZee PRO will cut your mowing time in half compared to a conventional riding mower. That's time you can spend doing more important things
With features like big 20" smooth-riding tires, Country Clipper's patented stand-up deck design, your choice of easy-to-use joystick or traditional dual lever steering control, and a whole list of features as long as your arm, the JAZee PRO will be your favorite mower for years to come. Plus, the JAZee PRO features Country Clipper's exclusive 1-2-3 Limited Warranty. Only the JAZee PRO gives you your choice of a 1-year limited commercial warranty, or our 2-year/3-year standard residential warranty. It's further proof that Country Clipper offers the best warranties in the business.
The JaZee Pro is now also available with a left-handed joystick for added comfort for left-handed operators.
[an error occurred while processing this directive]
Versatile Cutting Decks
Country Clipper's revolutionary Stand-up Deck makes underside access for maintenance and cleaning a breeze. JAZEE PRO cut widths: 48", 52", and 60".

Each deck is fabricated with welded reinforced steel … not just stamped into a shape. Included are a tough bullnose front, high impact anti-scalp rollers, and 1⅛" spindle shafts with cast iron housings.

The JAZEE PRO features a Pivoting Front Axle & Deck system. The deck moves in sync with the pivoting front axle to follow ground contours.

Big 20" Drive Tires
The JAZee PRO features big 20" drive tire for a smooth, stable ride. Dramatically decrease your mowing time in comfort on flat, wide-open ground, or, coupled with an exceptional weight to balance ratio, a wide stance gives the JAZee PRO the ability to handle slopes easier than other competitive zero turn mowers.
Drive Systems
Country Clipper optimizes each mower's drive system by blending engine strength with tire size, the positioning of frame components, and rider ergonomics.
Each JAZEE PRO uses a strong 22 hp Kawasaki V-twin or 27 hp Kohler Courage Pro engine to drive top-rated Hydro-Gear ZT-3100 hydrostatic transmissions. This brings the power to compete in any large residential or commercial application.
Logical Design
Country Clipper has been first with features that truly make a difference, and owners tell us our designs just make more sense than the competition.

Country Clipper's deep design, fully baffled decks cut grass and channel clippings much more efficiently … a manicured lawn using less energy.

Deck spindles are aligned more exactly so cutting blades move faster and independently of one another with no timing required.

Country Clipper's flexible component frame design allows greater access to working sections of the mower.

You won't find plastic body parts on your built-to-last Country Clipper.
Operator Convenience
The unique Joystick steering and speed control lets you sit more naturally while freeing a hand for what's in the cup holder, or to move that low hanging branch. Now available, Left Hand Joystick control on select JAZEE PRO models.

A Front Step and High-Backed Seat add even more rider comfort to the JAZEE PRO.

Country Clipper's exclusive Stand-up Deck eliminates the inconvenience of ramps or hoists for underside deck access.

When momentarily leaving the mower, the Operator Presence Control automatically stops blade rotation and the engine.

When you'd like a closer look at your mower, Country Clipper's more Open Frame Design makes it easier.
Visit the Accessories page for more tools and attachments to streamline your day
---
For those small commercial applications such as businesses, cemeteries, and churches, The JAZEE PRO features a 1-year limited warranty on parts and labor. Only Country Clipper offers you your choice of these outstanding warranties

You can be confident that when you buy a JAZ

EE

P

RO

you are buying the best. We back it with a limited 2-yr residential warranty that includes parts and labor. And then we stand behind every JAZ

EE

P

RO

we build with outstanding service.**
Plus, get a 3rd year limited warranty on your frame and deck, including the spindles. Simply return your warranty registration within 10 days to get this extra warranty. Contact us for complete warranty details.**
* The customer's warranty registration must be returned to Country Clipper within 10 days in order to qualify for the third year limited warranty. JAZEE PRO mowers registered for commercial use are not eligible for this extended warranty . Call us for complete warranty details and limitations.
**Units registered for commercial use are not eligible for the second or third year warranties.