---
Features:
24 hp Kohler Courage V-Twin
48" cutting width
Joystick or Dual Lever steering
Stand-up Deck
7.5 mph forward speed
Twin Hydro-Gear hydrostatic transaxles
4 gallon fuel tank
Up to 3.2 - 3.9 acres per hour
High back, enhanced comfort seat
Starting at: $4,895*
Visit the Accessories page for more tools and attachments to customize and add value to your Country Clipper mower.
* Price is cash price for the model we keep in stock. See the detailed specifications for more details.
Country Clipper's JAZee will change your yard-work to yard-fun!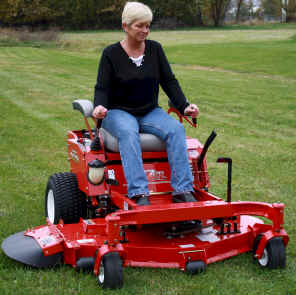 Stepping up from the JAZEE ONE series, the JAZEE is designed for larger residential lawns or small estates. The JAZEE is equipped with more horsepower, wider cutting width, more fuel capacity, and a higher ground speed. The JAZEE can easily handle up to 3.9 acres per hour.
With great features like Country Clipper's easy-to-use, revolutionary joystick control, the JAZEE has a true 360° turning radius for efficient operation that will cut your mowing time in half compared to a conventional riding mower. And an unobstructed view makes all your close trimming a breeze.
With speeds up to 7.5 mph, you're mowing will be finished in no time. Plus, with an exceptional weight to balance ratio, the JAZEE has the ability to handle less than friendly terrain easier than other competitive zero turn mowers.
Easy Joystick Control
Country Clipper's easy-to-use Joystick steering gives you ergonomic comfort not seen with other mowers, and the "go-where-you-point" control is easy to learn. It's more natural than the "push right to turn left" twinstick controls found on other residential zero turn mowers. Its solid mechanical linkage is designed for years of smooth operation.
True Zero Turn
JAZee's independently operating rear wheels provide both driving power and steering control by allowing a full 360 degree zero radius turn.
The JAZee mid mount mower features Country Clipper's revolutionary deck design which allows it to be rotated up for quick and easy maintenance and cleaning. Flipping the deck takes less than a minute and locks in the upright position.
The rugged welded steel mowing deck with the full complemented deck baffles will mow everything from fine Kentucky Bluegrass to tough Southern Bahia grass lawns with professional ease. It will also surprise you with it's ability to mow the "occasional patch" of standing weeds.
"One Tough Little Mower!"
The Country Clipper JAZee is manufactured like it's "commercial cousins" and uses many of the same heavy duty components. Country Clipper believes you deserve the same durable products used by the commercial mowing industry, including commercial grade engines.
Zero-Radius Turning
The JAZEE has zero-radius turning using our popular Joystick or traditional dual lever.

The highly responsive Joystick with solid mechanical linkage offers fingertip control of both direction and speed. It's so easy to learn, makes mowing fun, and you sit more naturally.
Versatile Cutting Decks
Country Clipper's revolutionary Stand-up Deck makes underside access for maintenance and cleaning a breeze. JAZEE cut width: 42", 48", and 52".

Each deck is fabricated with welded reinforced steel … not just stamped into a shape. Included are a tough bullnose front, high impact anti-scalp rollers, and 11/8" spindle shafts with cast iron housings.
Drive Systems
Country Clipper optimizes every mower's drive system by blending engine strength with tire size, the positioning of frame components, and rider ergonomics.

Kohler Courage 24 hp engines drive top rated Hydro-Gear Hydrostatic transmissions on the JAZEE.
Logical Design
Country Clipper has been first with features that truly make a difference, and owners tell us our designs just make more sense than the competition.

Country Clipper's deep design, fully baffled decks cut grass and channel clippings much more efficiently … a manicured lawn using less energy.

The JAZEE is a serious residential & estate mower using three cutting blades instead of only two found on lesser machines.

Deck spindles are aligned more exactly so cutting blades move faster and independently of one another with no timing required.

Country Clipper's flexible component frame design allows greater access to working sections of the mower.

You won't find plastic body parts on your built-to-last Country Clipper.
Operator Convenience
The unique Joystick steering and speed control lets you sit more naturally while freeing a hand for what's in the cup holder, or to move that low hanging branch.

A High-Backed Seat adds even more comfort to every Country Clipper riding mower.

Country Clipper's exclusive Stand-up Deck eliminates the inconvenience of ramps or hoists for underside deck access.

When momentarily leaving the mower, the Operator Presence Control automatically stops blade rotation and the engine.

When you'd like a closer look at your mower, Country Clipper's more Open Frame Design makes it easier.
Visit the Accessories page for more tools and attachments to streamline your day.
<% Server.Execute "resfetures.htm" %>
---
Country Clipper warranties are the best in the business.
| | |
| --- | --- |
| You can be confident that when you buy a JAZEE you are buying the best. We back it with a limited 2-yr residential warranty that includes parts and labor. And then we stand behind every JAZEE we build with outstanding service. | Plus, get a 3rd year limited warranty on your frame and deck, including the spindles. Simply return your warranty registration within 10 days to get this extra warranty. Contact us for complete warranty details. |