Available from DeMott Enterprises:
Ultra Deluxe Air-Ride Seat
for Country Clipper Lawn Mowers
---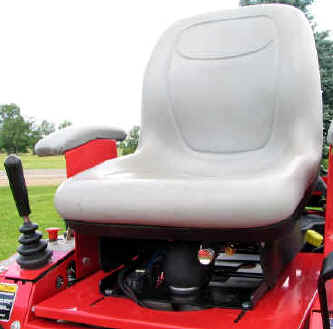 The Ultimate in Comfort and Smooth Ride
Ride on a cushion of air in the most comfortable seat around. With the optional air-ride seat, you'll feel like you're floating over bumps!
This is a full air suspension seat for lawn mowers - it works just like the ones on big rigs!
Features:
Adjustable suspension level
Puts the suspension in the seat where it is most effective
Built-in 12v compressor
Compressor runs off mower electrical system
One-hand adjustment, push for firmer suspension, pull for softer
Supports operators from 50 lbs to 350+ lbs
Suspension type: Air Suspension
Air cushions: 1
Approximately 5 inches of total travel
Adaptable to most other brands of mowers
Price: $450 (plus shipping and handling)
---
Additional Pictures:
(click thumbnail to enlarge, opens in a new window)
Due to product improvement, all specifications subject to change without notice.
DeMott Enterprises is an authorized Dealer.