Accessories
Optional Accessories

Back to Accessories
---
Deck Flip Jack

The Deck Lift Jack makes it easy to lift Country Clipper's patented stand-up deck. Simply pin it to the mower and deck and crank to raise the deck with minimal exertion. Partial cranking raises the rear of the mower, one side at a time, acting as a rear tire jack for convenient tire changing.
(Not available on JaZee ONE or Wrangler models.)
---
Fender Headlights

Headlights for 2011 and older Country Clipper mowers
Our simple to install fender mount headlights give you that extra bit of daylight to finish that all-important job. And to top it off, they make your mower look great!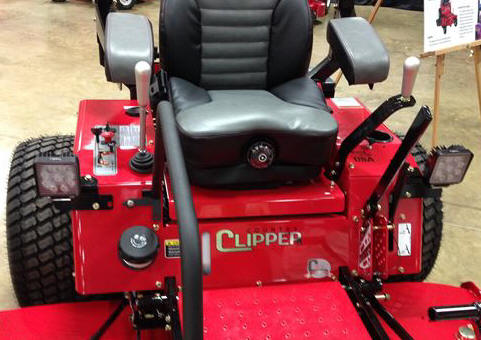 Headlights for 2012 and newer Country Clipper mowers
Fits:
Edge
Edge XLT
Challenger
Charger
Defender
BOSS XL
---
Mulch Kit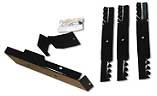 Optional mulching kits convert your Country Clipper into a mulching mower. Grass clippings become finely chopped mulch, making your mower environmentally friendly while at the same time increasing your productivity. A discharge enclosure, baffle and mulching blades are included in the kit. Our patented stand-up decks speed installation.
Find the right mulch kit for your mower in our store.
---
Deluxe Suspension Seat

The Deluxe Suspension Seat is a heavily-padded, full suspension seat that provides an enhanced, smoother ride with adjustments for the operator's weight and ride preference. Standard on BOSS models.
---
Bagging Systems

The Grass Collection System will bag grass throughout the entire year and make "raking" leaves in the Fall easy! With its simple design and easily accessible collection tubs, grass and leaf collection is a breeze.
Country Clipper's powerful Grass Collection System quickly converts from side discharge to grass collection. It's fast and easy to convert and has no extra belts or motors to attach. This grass collector has a 9 - bushel capacity and can be emptied from the Operators seat. Simply uncoil the flexible tubing and collection boot from the hangar on the side of the hopper, and attach the boot to the deck discharge using the spring loaded lock. You are ready to collect grass. Powered by an independent blower motor, the system includes front weights and 9 cu. ft. capacity
---
Handrail Kit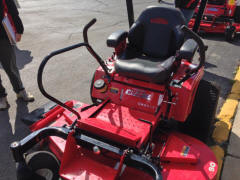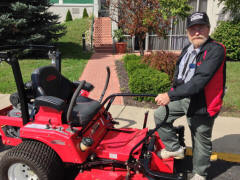 Use the new handrail kit to easily and safely get into the seat of your Country Clipper Mower.
The all new Hand Rail is universally designed to assist the operator when entering or exiting the mower. Used with Country Clipper's wide front step, climbing into the seat has never been easier.
---